Sorry,neither of us have a Xbox One yet. ALbertO will probably end up getting both in about 5 years like he always does. If we get access to a Xbox One we will most definitely be talking about it also!
The Design
The ps4 is very pretty and unique the way it's slightly diagonal. It looks great! You do have to be careful because the top half will collect everyone one of your fingerprints. The slot for games work well and the 2 USB ports are easily accessible, but one thing that's not accessible is the dumb power button. I don't know who came up with this idea. Sony probably said: Lets make the power button really tiny and almost impossible to find so we can agitate our customers. It doesn't even press down like a normal button! It's a good thing you only have to press it once when you first get it. The little space in the middle is a light and it's really cool and a good idea. It blinks blue when you turn it on then turns to white when it's completely on. It's orange when you put the system in stand bye mode. It takes about the same time to turn on as the ps3, at least it doesn't argue with you by beeping like the ps3 would! You do feel anxious when the blue light keeps on blinking, but it should eventually turn on! Overall I'm impressed with the way the system looks it would be even better if the power button worked like a button.
The Controller
The controller is awesome and I can't find any complaints. It is made to fit you hand better and the L2 and R2 buttons wont get pressed down everytime you set the remote down! The analog sticks are very comfortable and fit good with your thumbs. The controller is very sturdy and seems very well made. The best part is the new features.
1st
: It has a speaker like the Wii remote and it works really well. It startled me when I first found out when playing Killzone. It works really well with resogun.
2nd:
The top half is a touch pad that is surprisingly really responsive. It works excellent when sending out your drone in Killzone Shadow fall. The touch pad is also a button which is cool, so far it has just been used to enter menus. Like seeing the AC Black Flag map, and seeing multiplayer progress in a Killzone match.
3rd:
There is no more start and select buttons, there is options and share buttons. The options is basically the start button and the touch pad is basically the select button. You can press the share button any time the system is on. It takes a screenshot and records your last 15 minutes of gameplay. You can then show this to your ps4/3 friends,and upload it to Facebook and twitter. So far, I have seen no problems with this except I wish there were more options of where to share it to. I would love to use the screenshots as themes, but I haven't seen a theme option yet!? The controller also has a light in the back, blue when in menus,green when in games, and red when you are dead.
The features (everything else, graphics, live friends store vita etc.)
The xmb is back but with a new fill, it is even better then before. Very easy to use with a lot of options. The ps store is the same as the ps3 but now there is no more loading. Actually one of the best things about the ps4 is that there is no loading. There may be a small wait but nothing bad at all. Even when starting the game you get right into playing it. And while playing the game there is minimum if not no loading screens. ALL the games show up on the front page and you can see the new add ons and what your friends are doing. Then there is the life from playstation where you get to watch other people play games. Sometimes I just spend my time doing this.The video quality is at times bad and the video lags but not all of them and it was not a big problem. Then there's the video section where you get all your normal apps like Netflix, hulu and Red box which they all work fine. The friends section is basically the same and it is really easy to look at them and send messages. You can send messages to ps3, ps4 and vita friends and the best part is that you can use party chat. The notification tab will tell you everything that goes on and keep you in tune with downloads and updates. You can do anything while something is downloading and you can even play the game will it is updating. Another great feature about the ps4 is that you can download a game, go play another game then look at live from playstation all at once. All of these comes together in a quiet responsive system that has the graphics that was promised.
Ps Vita
The vita can finally be used with your console. It's like the wiiU or smartglass. It can be used as a second remote or a second screen. We played lego marvel super heroes demo, one with the controller and one with vita and it worked fine with no problems. The graphics still look extremely good on the vita and only lags a few times and it's not very comman. The bad thing is that the range is terrible. I just walked out of the room to the next and it lost connection. It would be great if I could play a ps4 game in my room.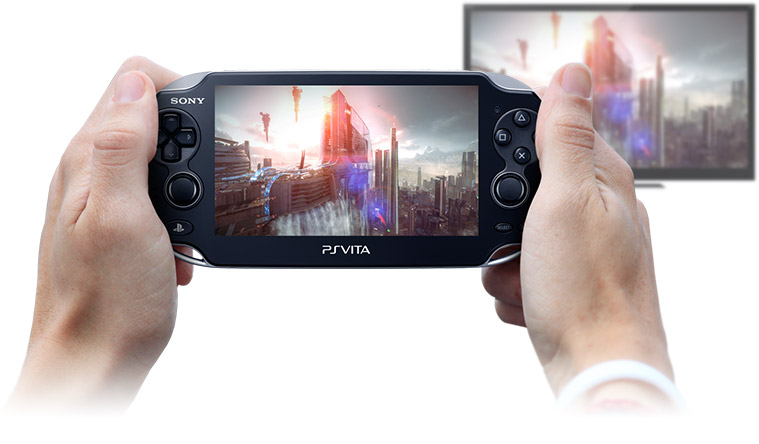 The future
The future looks good for the ps4 with some great games coming out like Infamous second son and the order 1886 as while as many other games. There is also rumor of a bundle that comes with a ps4 and vita. That's a really good idea. But the best thing is the Galika streaming services which is said to be coming soon. So far Sony has done much better then the the ps3 at launch and lets hope they do good in the future. The console is very strong this time around and I am really enjoying it.
Our thoughts on the games are coming next with what we think about the launch line up, the up coming games and reviews for Killzone Shadow Fall, Resogun, and Assassins Creed Black FLag